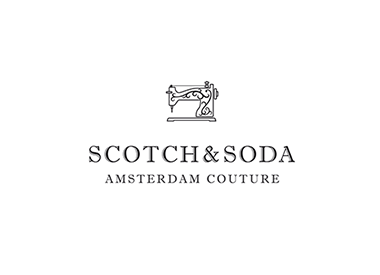 Scotch & Soda loves to make great garments that suit every individual.
At Mitchell McCabe we also want people to love their clothes and enjoy wearing them.
Scotch & Soda products are typified by being rich in fabric quality, attention to detail, quality manufacture and yet affordable.
Their product designers spare no effort or expense at detailing and fine-tuning items, all the way to a neatly finished interior of each garment.
Scotch and Soda is not new or trendy, we love the way they re-invest in their products, which are typically inspired by the best tried and tested classic and vintage styles, enriched with a wealth of inspiration from around the world.
Late in 2010, the first Scotch & Soda perfume was launched by the name of Barfly, making a long-lived dream of the brand come true.
The subsidiary portion of the brand's denim offer, named Amsterdam's Blauw also was made available from 2010. This gave the brand a compact high profile denim collection that could only come from the Scotch design lab.
We love Scotch and Soda so much as it identifies with our customer - classic in many ways, but young and fast-forward when it comes to bringing great clothes to the marketplace, just like Mitchell McCabe.
Amsterdams Blauw
Amsterdams Blauw is the denim collection of the Amsterdam-based fashion brand Scotch & Soda. The name Amsterdams Blauw (or Amsterdam Blue) is the colour of paint that was used in the Golden Century between the years of 1500-1750 to paint Dutch porcelain.
The striking blue colour was obtained by mixing indigo from China and Japan with an oil-based paint. Nowadays, this colour is still widely visible in the streets of Amsterdam on house number plates and street signs.
The Amsterdams Blauw Men denim collection brings a line of high-quality denim essentials for modern city dwellers. From denim to shirts, jackets and accessories, all products are made with great care and an eye for detail; so well constructed you could almost wear them inside out.
With a signature fresh approach to carefully detailed denim garments in extraordinary washes, Amsterdams Blauw offers all the blue essentials that men could wish for.
Free from any heritage restrictions, Amsterdams Blauw has set the tone for denim and indigo lovers everywhere, and as you know, Mitchell McCabe loves Indigo.