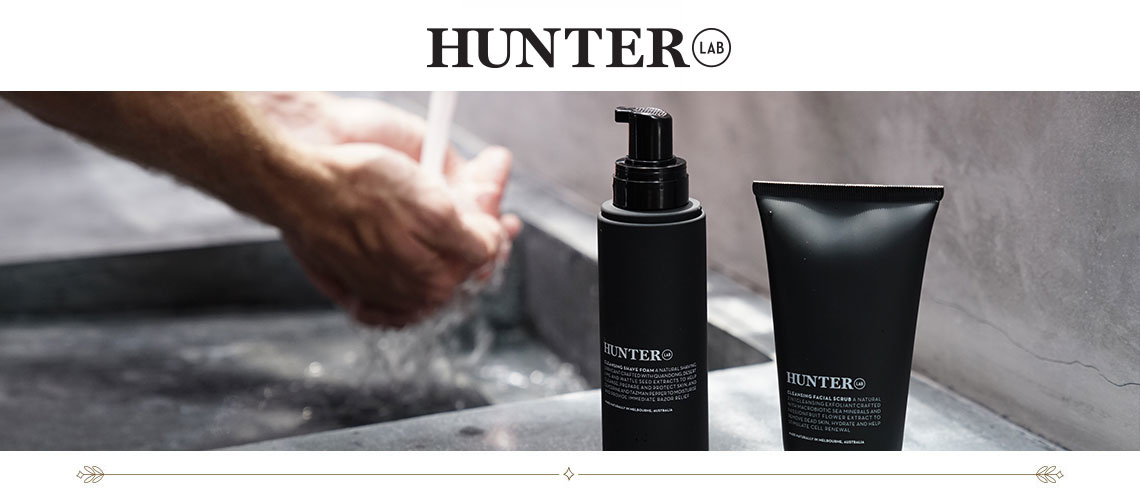 Mitchell McCabe Menswear is proud to carry the full range of Hunter Lab Premium Natural Skincare Products.
Give your skin the love it needs with this range of all-natural, high-quality, scientific formulas from Hunter Lab Skin Care Products. Hunter provides skincare products that keep your routine easy and your skin looking its best. 
Natural skincare remedies have been around since the 4th millennia, but much more recent technology and green chemistry has improved to the point where we can effectively harvest and harness the goodness of naturally derived ingredients
Our bio-compatibility with the plant world allows us to draw on the regenerative and anti-ageing qualities of plant essences such as herbs, roots, flowers, water, oils and naturally occurring carrier agents to effectively improve our skin condition
Here are a few of nature's top power ingredients you will find in Hunter Lab skin care products :
Tasman Pepper Leaf 
Native rainforest extract from the Tasmanian Pepper fruit, it helps inhibit the skin discomfort sensor and reduces inflammation. It helps reduce the appearance of skin redness and provides immediate relief of itching and irritation.
Violet Leaf Extract 
Used to treat skin conditions such as acne, psoriasis, skin ruptures and similar skin ailments.
Passionfruit Seed Oil 
Also known as Maracuja Oil, this wonder oil is rich in Vitamin A, B, C, calcium and phosphorus and is packed with antioxidants and essential fatty acids. Contains anti-inflammatory and healing properties to help facilitate the repair of skin damaged from acne, ageing or sun exposure.
Activated Charcoal
 This deeply cleansing extract helps clean heal skin blemishes by drawing dirt, oil, bacteria and micro-particles to the surface to be washed away.
Avocado Oil 
is rich in many nutrients craved by the body, such as vitamin A and D, Lecithin and Potassium. A fantastic dry-skin moisturising oil that helps with skin conditions such as eczema, and assists in the treatment of climate-damaged, parched, undernourished or ageing skin.